Throughout all three series, a lot of merchandise was released in order to promote the show. These included DVD releases, magazines, books, audio books, puzzles and even action figures. Much of the merchandise released mimicked the type of merchandise released for the recently revived and successful Doctor Who. With the shows cancellation in 2009, some of the merchandise has become difficult to obtain but a lot can still be found second hand.
Whilst the quantity of this merchandise suggests a relatively successful show, the fact that merchandise dropped off after series two suggests a dip in the shows popularity. Or at the very least, an effort to continue promoting it. By series three, the only merchandise produced to help promote the show were six audio adventures. Although they provided the means to keep the show going once the show was axed, an opportunity to preserve and continue Robin Hood's legacy was missed.
That said, audio adventures and novelisations still provide an effective way for Robin Hood to continue and thrive for remaining fans and I hope that one day, that will be a possibility. It would be lovely to be able to see the likes of Robin Hood once again. Ranges can always return!
---
Useful links
Here you can find some links that other fans have written about the merchandise:
GENERAL
MAGAZINES
ACTION FIGURES
List of all merchandise is down below. Enjoy!
---
DVDs
With any TV show comes a DVD release. Whilst a DVD release seems less crucial nowadays for a television show due to the rise of streaming, DVD releases before the era of Netflix were important. DVDs were the only way you could watch a series again unless it was repeated! (I still think DVDs remain a tangible and superior format!)
Series one two and three had their own dedicated box sets. The beauty of them was that they were not squashed into a thin box in order to save packaging and cut costs like DVDs can be today. The art design was beautiful art and the box set housed some wonderful discs. Unfortunately an episode guide/booklet was not included in contrast to the Doctor Who box sets of the time. But given Robin Hood's relatively new nature, I can see why it didn't come with one. It had no previous fanbase to connect to.
Interestingly enough, series one was also released as three separate volumes, not too dissimilar to releases of some series of Doctor Who at the time. Again, this was probably to help promote the series. These separate DVDs included a few of the extras on the series one boxset (Hood academy and some character profiles) but not all of them.
---
Soundtrack CD
One soundtrack for the series was released on 27th November 2006 in accordance with the broadcast of the first series. The first episode aired on 7th October 2006. One CD album was released, reflecting a large, but not complete, collection of music from series one. The music was composed by Andy Price. To see more about the music select the 'music' page from the menu.
---
Action Figures & Castle Play Set
A set of five individual action figures were released by Vivid Imaginations. I am unsure when these figures were specifically released. However based on the pictures used for the information cards included with each figure, it is clear that they were based off of the characters in series one. The figures included Robin hood, Little John, The Sheriff, Guy of Gisbourne and the Nightwatchman. Each figure came in their own plastic packaging with a description card and various accessories. Robin came with a sword, quiver, bow and arrows; Little John came with a quarter staff; the Sheriff came with a falcon and bird cage; Gisbourne came with a sword and sheath; the Nightwatchman came with a sword, bow, arrows and a cloak. Again, this followed a similar merchandise pattern to the recently revived and successful Doctor Who, which had also released a hand full of action figures.
A castle play set was also released which included two exclusive figures: Marian and a limited edition Robin.
Below are some pictures of Jonas Armstrong and Gordon Kennedy promoting some Robin Hood toys on 24th January 2007.
---
Large Action Figures
Two 12″ action figures of Robin and the Sheriff were also released. Robin came with a sword, arrows and quiver while the Sheriff came with his falcon and bird cage. Each figure had seven catchphrases.
---
Action Figures with Horses
Robin, the Sheriff and Guy of Gisbourne were also released with their own horse. The figure was looked the same as the individual figures that were sold with a card and accessories. The Sheriff was sold with a white horse, Guy with a light brown horse and Robin with a slightly darker brown horse.
The boxes advertised a 'galloping feature'. I imagine this consisted of some kind of mechanism that allowed the legs of the horse to move as if it was galloping.
---
Dress Up Set
A Robin Hood children's costume was released with trousers, a top and jacket and a sword. It included the gang's tag created by Will Scarlett in series one. Whilst the gang tag being included was a nice touch, I believe that it could have sold just as well on its own.
---
Electronic Recurve Bow
An electronic recurve bow was released aimed at children aged five plus. It included a small, plastic bow with three foam tipped arrows.
---
Magazines
During the airing of season two, a series of five Robin Hood magazines were released in October 2007. Following the success of Doctor Who and its subsequent Doctor Who Adventures magazine for its younger audience, it was no surprise that the BBC would be keen to release a similar magazine for its Robin Hood fan base: Robin Hood Adventures. I purchased two of these magazines when I was a young fan of the show. However I never realised at the time that five were only ever released.
At the time, I thoroughly enjoyed these magazines. They had plenty of stuff to read and complete in them. They included a comic strip, a section on the history of medieval times, an episode strip of aired episodes, games and puzzles as well as a section on the most recently aired episode to name a few sections.
Free gifts were also advertised with the purchase of the magazine. The first issue boasted the most noticeable gifts with an activity CD rom and stickers, with the magazine coming in a sealed bag. This was the only issue presented in a sealed bag, with the gifts of future issues being taped on.
Robin Hood Adventures and its competitors: Why were only five magazines released?
Priced at £1.99, Robin Hood Adventures was released every fortnight, only whilst series two was being aired. This was in contrast to Doctor Who Adventures which continued publication whilst Doctor Who was off air (a fortnightly magazine increasing to weekly on 17 January 2008). This was most likely because Robin Hood could not match the demand there was for Doctor Who merchandise. I imagine Robin Hood Adventures magazine was seen not to be as financially viable as Doctor Who Adventures whilst the series was off air as Robin Hood's fanbase was still relatively new.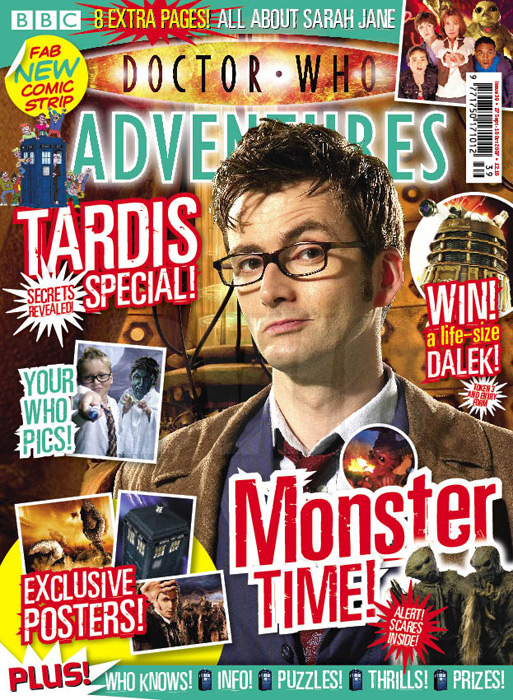 But Robin Hood was never going to beat Doctor Who in terms of merchandise sales. It did not have a forty-two year old history of fans who would be willing to snap up merchandise on release. Unlike Doctor Who, Robin Hood fans had to discover the show before they were willing to invest.
What is most frustrating is that it is clear that lessons were learnt about the merchandise for new family tea time dramas by the time Merlin took off. Although there may have been more demand for Merlin magazines, there is no doubt that slightly increasing the cost (£3.20) and making it a monthly publication made it financially viable. Merlin proved that magazines for new family dramas could be popular if handled in the right way. Whilst we will never know the whole picture regarding the demand for Robin Hood Adventures in contrast to its competitors, looking back, it is saddening to see that there was a lot more potential for Robin hood Adventures if perhaps published in a different way.
No Robin hood Adventures magazines were released during series three. Although it was a shame that the magazines did not continue into the third series, the fact that there was a one year gap between series two and three probably didn't help to retain the demand for them. Similarly, series one would have been too early to launch magazines as the success of the show would have had to been established first.
Does Robin Hood Adventures reflect a decline in the popularity of Robin Hood?
Whilst it could be viewed that Robin Hood Adventures Magazine was not all that successful, I think it more likely that Robin Hood was increasingly being viewed as a show nearing its end. There was a lack of incentive to continue promoting the show during series three, especially with Robin leaving the series. This is reflected on this very page. It is evident that a lot more merchandise was produced to promote the show when it first aired in contrast to its third series.
Although I am aware that this is the brutal reality of television, I think that this was wrong. I do not think that Robin Hood's end was set in stone after series three. I genuinely believe there were a lot of people, producers and fans, that still saw a future in Robin Hood. This is illustrated in some of the plot points for series three. Whilst some were conclusive, there were other signs that Robin Hood was pushing for a series four, or at the very least, for a spin-off. I think it was widely accepted that Robin Hood would be without Robin. But I do not think that it was widely accepted that this had to mean the end of Robin Hood.
Sadly, I think the lack merchandise released for series three reflected that there were doubts about the show's future. Series three had enough obstacles presented to it. These included: having to compete with Merlin and Doctor Who; prove its popularity after being off air for a year and prove that the controversial plot point at the end of series two was worthwhile. Failing to provide sufficient merchandise made it harder for Robin Hood to connect with its successful past. Merchandise often acts as the link between series, proving that there is confidence in a show, that there are people backing it, which provides certainty to fans. Yet Robin Hood was increasingly feeling like a different show by series three. A lack of merchandise for the final series only illuminated uncertainty about the Robin Hood's future. Whilst it is true that Robin Hood aimed to be much darker and bolder in series three, perhaps aiming to differentiate itself from the last two series, more merchandise would not only have highlighted confidence in the show's future, but that this was still the same Robin Hood that fans had enjoyed back in 2006.
However whilst I still feel robbed of more Robin Hood Adventures magazines, if it wasn't for the success of Doctor Who and the BBC's new appetite for more family tea time dramas, Robin Hood probably would never have never been commissioned. So whilst it is easy to see the lack of love given to Robin Hood through the merchandise towards the end, it is also important to appreciate what we had. At least the release of Robin Hood Adventures did demonstrate that Robin Hood was on the rise and still had a lot of potential.
---
Jigsaws
Jigsaw puzzles were also released to help promote the first series. Once again, this was in line with Doctor Who, which had also released puzzles as merchandise.
Although puzzles seem like an odd medium nowadays to promote a television show, I imagine the fact that a puzzle can be something the whole family does together was appealing as it targeted the audience Robin Hood aimed to attract. There was a 60, 100, 500 and 1000 piece jigsaw with images of Robin, Marian, the gang, the Sheriff and Gisborne. This made a set of four jigsaw puzzles.
---
Books
For fictional novelisations of the first four episodes were released to help promote series one. Although tracing the events of the first four episodes, these novelisations reveal little details that are not conveyed on screen. One such example is when Robin and Much are walking together through the woods before they meet Allan A Dale and the Sheriff's guards. This scene is evidently absent from episode one, with the first scene involving Robin depicting him emerging from behind a tree after firing some arrows to scare the guards instead.
Two other books were released, with The Silver Arrow and the Slaves and The Taxman being based on episodes five and six, continuing the story of series one. The Silver Arrow and the Slaves also included an audio CD in some instances. Unlike the first four books, the titles of last two did not match up with the subsequent episodes. Most likely this was because they were shorter stores, aimed at younger children to aid with their reading. This is made clear by the publishers of these books: Richmond and Schoolastic. The novels below were perhaps more loosely based on episodes five and six, containing more plot variations than the earlier books.
---
Audio Books
To help continue to promote series one, four audiobooks of the first four episodes were released: Will You Tolerate This?, Sheriff Got Your Tongue?, Who Shot the Sheriff? and Parent Hood. Each audiobook was read by Richard Armitage and contained an interview with him at the end. All audiobooks stayed true to the first four episodes, read from the fictional novelisations that were based on the first four episodes.
Unlike the other merchandise released, the audio books seemed to be one of the few formats that were repeated as the show continued into its their series. Six audio books were released in 2009 following the end of series three. These were the only pieces of merchandise released for this series. They were:
The Witchfinders
The Tiger's Tale
Friendly Fire
The Dambusters
The Deer Hunters
The Siege
Unlike the first set of audiobooks, Richard Armitage only read two of them. Armitage read The Witchfinders and The Siege while Jonas Armstrong read The Tiger's Tale. David Harewood read Friendly Fire and Sam Troughton read The Dambusters and The Deer Hunters.
It seemed odd how the first four audio books released to promote series one were not read by Jonas Armstrong and that he only read one of the six new audio books released in 2009. I find this surprising considering that he was the lead character of the show. Perhaps this reflects the popularity of Richard Armitage's Guy of Gisborne over Jonas Armstrong's Robin Hood amongst the fanbase.
The 2009 audio books were more exciting than the 2006 ones as several members of the cast read them. However it would have been welcome to see more of the cast read other audiobooks, particularly the longer serving members such as Joe Armstrong, Gorden Kennedy or Keith Allen.
The main difference between the 2009 audio books to the 2006 ones was that they were original stories rather than reading a story that was based on previously aired episodes.
Big Finish produced the six audio books for series three, well-known for their successful and wide range of Doctor Who audio adventures. Yet unlike the scripted Doctor Who audio adventures, the Robin Hood ones were read aloud like a story, replicating the format of the 2006 ones. I think there was a missed opportunity here. It would have been refreshing to have seen these audio adventures grow into full cast scripted audio dramas like the Doctor Who ones.
As these audio books were released after the end of series three, it was hoped, amongst fans, that they had enough strength to continue on their own. However the cancellation of the show undoubtedly influenced the cancellation of any future audio adventures. This was a huge shame considering Big Finish are famous for their revival of popular television shows after they have been axed from air.
I truly believe that Robin Hood can be revived under the Big Finish banner once again. I believe that this would be the most viable way to continue the beautiful storytelling. The age of the actors would not be an issue and story telling would be unlimited on a lower budget than that of television. Audio books could even be released linking to events or scenarios during series one and two rather than just a continuation from series three. Spin off versions could also be produced such as focusing on events before or whilst Robin went away on Crusade. I'm sure even a series based on the famous night watchman would go down a treat. And fans would definitely listen, even after all this time. There is still demand for more Robin Hood. It is of no coincidence that most fans bring up these audio books as a way for the show to live on. It is definitely possible. There are still so many fans who love this show – you only have to go to the ADifferentKindofHood Instagram account to see that. I just hope than one day this can become a reality. I will do everything I can to make this happen.
---